Sum 41
Sum 41 es una banda de rock originaria de Ajax, Ontario, Canadá. Sus miembros actuales son Deryck Whibley, Jason McCaslin, Steve Jocz y Tom Thacker. La banda recibe ese nombre ya que se creó 41 días después de que comenzara el verano (en inglés "Summer") de 1996. Desde la firma de un acuerdo con Island Records en 1999, la banda ha lanzado cinco álbumes de estudio, dos CD en vivo, dos DVD en vivo, un recopilatorio y más de quince singles, dando cómo resultado millones de copias vendidas alrededor del mundo. Desde 2006, la banda ha realizado más de 600 recitales y su última gira por el mundo se dio a conocer mundialmente por durar más de un año.
Half Hour Of Power (2000):
Sum 41 lanzó su primer album Half Hour Of Power el 27 de junio del 2000. El primer single lanzado por la banda fue Makes No Difference, que tenía dos vídeos diferentes. El primero, que había sido enviado a las discográficas, fue unido al segundo que mostraba a la banda tocando en una fiesta de campo.

All Killer No Filler (2001):
El primer álbum de larga duración de Sum 41, All Killer No Filler, fue lanzado el 8 de mayo de 2001, y su primer single fue Fat Lip, que se convirtió en uno de los hits del verano, quedando en el primer puesto en emisoras de rock de los Estados Unidos por una semana. Las presentaciones en el Warped Tour durante ese año incrementaron aún más la popularidad de la banda.
1) "Introduction to Destruction"
2) "Nothing on My Back"
3) "Never Wake Up"
4) "Fat Lip"
5) "Rhythms"
6) "Motivation"
7) I"n Too Deep"
8) "Summer"
9) "Handle This"
10) "Crazy Amanda Bunkface"
11) "All She's Got"
12) "Heart Attack"
13) "Pain For Pleasure"


Does This Look Infected? (2002):
El 26 de noviembre de 2002, Sum 41 lanzó su segundo álbum de larga duración llamado Does This Look Infected?, alterando ligeramente su estilo - con introducciones algo más pesadas - pero manteniendo la armonía lisa por la que se habían hecho conocidos. El primer single de éste álbum fue Still Waiting que los tenía en un simulado "nuevo-garaje" retro bajo el nombre de "The Sums".


1) "The Hell Song"
2) "Over My Head (Better Off Dead)"
3) "My Direction"
4) "Still Waiting"
5) "A.N.I.C."
6) "No Brains"
7) "All Messed Up"
8) "Mr. Amsterdam"
9) "Thanks For Nothing"
10) "Hyper-Insomnia-Para-Condrioid"
11) "Billy Spleen"
12) "Hooch"
13) "Reign In Pain"
14) "WWVII Parts 1 & 2"


Chuck (2004):
Sum 41 lanzó el disco Chuck el 12 de octubre de 2004. Su primer single fue We're all to blame. El álbum lo llamaron así por Chuck Pelletier, miembro de las fuerzas de paz de las Naciones Unidas que salvó las vidas de los integrantes de la banda y otros 40 civiles mientras que la banda estaba grabando un documental sobre la guerra en la República Democrática del Congo para War Child Canada.

1) "Intro"
2) "No Reason"
3) "We're All to Blame"
4) "Angels With Dirty Faces"
5) "Some Say"
6) "The Bitter End"
7) "Open Your Eyes"
8) "Slipping Away"
9) "I'm Not the One"
10) "Welcome to Hell"
11) "Pieces"
12) "There's No Solution"
13) "88"


Underclass Hero (2007):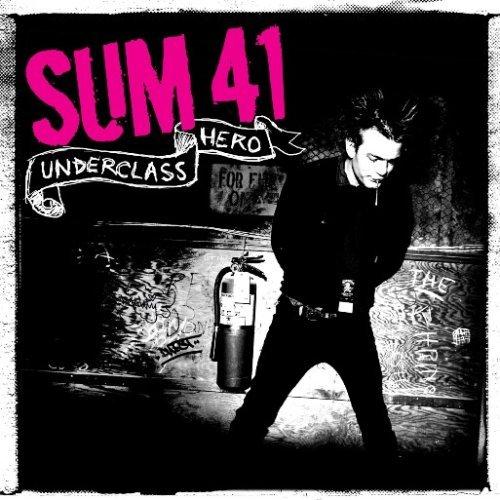 Underclass Hero, lanzando como primer single la canción homónima Underclass Hero, posteriormente se publicaron otros dos singles, Walking Disaster y With me, y una version de Still waiting que fue todo un exito. Durante la grabación de éste disco y su posterior gira, se unió a ellos un nuevo guitarrista, Tom Thacker (también conocido como BrownTom).



1) "Underclass Hero"
2) Walking Disaster"
3) "Speak Of The Devil"
4) "Dear Father"
5) "Count Your Last Blessings"
6) "Ma Poubelle"
7) "March of the Dogs"
8) "The Jester"
9) "With Me"
10) "Pull the Curtain"
11) "King of Contradiction"
12) "Best of Me"
13) "Confusion And Frustration In Modern Times"
14) "So Long Goodbye"
15) "No Apologies"